Don't Like Dry Fire - Laser Ammo Makes it Fun Says Danyela
Danyela D'Angelo said that she was never a big fan of dry firing, not sure completely why, but probably like most of us, repetition gets "boring" unless we are seeing an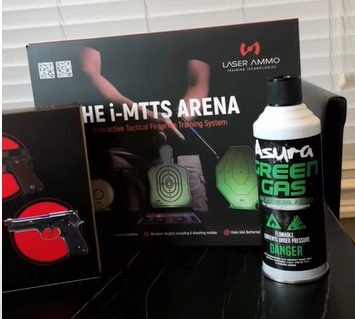 instant/direct result and sometimes we don't see that right away. But she go the 1911 recoil enabled firearms that was green gas enabled along with the i-MTTS reactive targets in her hands and said it was exciting to shoot, AND easy to set up.
We love that part too Danyela because we all know how we can procrastinate on putting things together in order to get to the actual practice in itself.
She then went to say that it makes dry fire practice fun. If you want to have fun like Danyela, check out our plethora of laser training products from the Surestrike laser cartridge for your handguns to the blowback recoil enabled firearm like she was using to lasers for rifles and even the Smokeless Range. Let us know how we can help improve your game with laser dry fire training.
Check out the 1911 Recoil Enabled Training Pistol and/or our other recoil guns as well as the i-MTTS reactive targets she showed in her video review. Let us know any questions or concerns. Be sure to scroll down to see more information about each of the products, any Q&As and reviews.